Ref:
Date:
Location:
Photographer:
Ref:
Date:
Location:
Photographer:
News
October 2018.
I have had one of the large pastel drawings, 'Mourners,' framed to see how
it would turn out and am pleased with the result!
December 11th 2018.
I have rearranged the galleries, separating the Isle of Skye works into the years they were made. I have also created two new galleries for, firstly, work I made in Milton Keynes and the second for work made in Whitley Bay. I will add images to these galleries in due course.
February 8th 2019
Went to the new V&A museum in Dundee, to see the Ocean Liners exhibition. It was very good, though have some reservations about the internal design of the museum itself.
Also visited the city's McManus Art Gallery and Museum, which is a gem. If you like Glasgow's Kelvingrove, you'll love the McManus!
February 13th, 2019.
The images on 35mm transparencies, that I sent away to be digitised, have been returned so I have been able to add to the gallery of paintings that were made while I was in Milton Keynes.
I have also created a gallery containing examples of paintings and drawings that I made during my last two student years, immediately prior to moving to Milton Keynes.
April 12th 2019.
The painting I have just finished,
'De Paarse Lupinen,'
(the purple lupins) was inspired by a letter, written to friends in June 1943, by the writer Etty Hillesum from the Westerbork transit camp in The Netherlands.
An English translation, by Arnold J. Pomerans, can be found in,
'An Interrupted Life: The Diaries and Letters of Etty Hillesum 1941-43'
published by Persephone Books, London in 1999.
Etty Hillesum was murdered at Auschwitz in September 1943.
The
Etty Hillesum Research Centre
, based in Middelburg, Netherlands, have placed an image of the painting on their Facebook page at https://www.facebook.com/Etty-Hillesum-Research-Centre-EHOC-188341044877/?
April 13th 2019.
There are now more images in the gallery, 'The Whitley Bay Years.' This morning it was sunny and calm (and there's no sign of midges yet!) so I was able to photograph these paintings outdoors.
July 20th 2019
Thanks to careful baggage handlers in Inverness and Schiphol, the painting
'De Paarse Lupinen'
is now safely in The Netherlands where it has been accepted as a gift by The Etty Hillesum Research Centre
.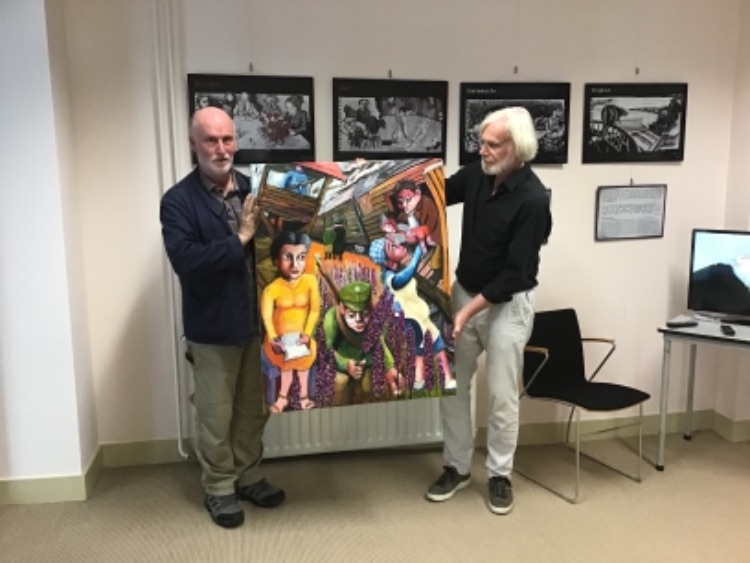 The painting being handed over by me to Ruud Timmerman, Deputy Director of the centre.
As part of the trip, I am now in Osnabrück, Germany, where the Felix Nussbaum paintings, at the Daniel Libeskind designed museum, have exceeded my expectations.